SVP Annual Appeal
3rd December 2022
Society of St. Vincent de Paul
Annual Christmas Collection
The annual Collection for St Vincent de Paul will be held on Saturday 3rd/Sunday 4th December 2022 after all masses.
Gift Aid will add a significant amount to what you contribute at no cost to you. Gift Aid Envelopes will be available and distributed along with Standing Order forms this weekend and the coming weeks before Christmas
You can also donate online through your bank to SVP St Brigid's Conference. DANSKE BANK Account No: 41024701 Sort Code: 950132
Toy Voucher Collection
Further to our earlier notice and building on last year's success of giving toy vouchers to families. We would like to remind you, that in order to give families time to buy the toys they require we need to collect toy vouchers at the latest at the Masses on 3rd/4th December.
Vouchers will be distributed to families the week commencing 5th December.
Heating Donations
We have in the past also collected money for Heating and if you wish to provide for this purpose please put your donation, cash or cheques made payable to St Brigid's SVP and placed in an envelope marked Heating, to provide heat for a family over the winter. The rapid increases in cost of heating will leave many families unable to heat their homes, so any amount towards this would be most welcome
SVP Christmas Cards will be available from THIS WEEKEND
Thank you sincerely for your continued support.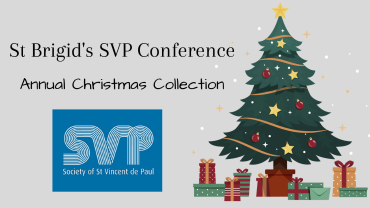 Event Categories