Holy Week Mass Schedule
26th March 2021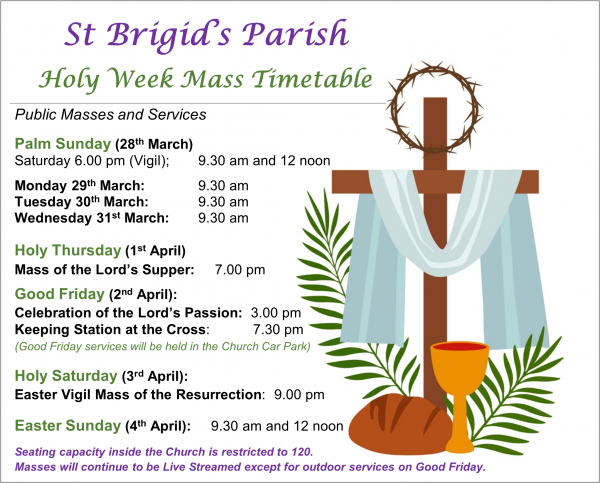 Good Friday services will be held in the car park. There will be no cars permitted in the Car park. There will be no seating - come expecting to stand. Stewards will guide parishioners to a safe place, please co-operate with the stewards. (These services will not be available on our Live Streaming Facility)
Please note: There will be no bookings or tickets for Mass Services during Holy Week. The seating restrictions inside the Church is 120 persons.
Restrictions and Guidelines for attending Mass in St Brigid's
Face Coverings are mandatory when entering and exiting the church and should be worn throughout services.
The seating capacity of the Church is 120;
Observe social distancing and use the sanitizer at the Church Entrance;
The Church doors are closed at one minute before Mass – the Church cannot be entered once Mass begins;
Take a seat and remain there until the end of Mass; children must remain with their parents, and in the seat, at all times;
Do not sit beside anyone who is not a member of your household;
For those who wish to receive Holy Communion, remain in your seat and Holy Communion will be brought to you; Holy Communion is to be received in the hand;
When leaving the Church follow the instructions and leave according to the indicated "One-way" system;
Anyone with cold-like symptoms must not enter the Church;
Those with under lying health issues are advised to remain at home;
Toilet facilities are not available;
Holidaymakers returning from other countries should not attend mass for two weeks.
Funeral Services and Wedding Ceremonies continue to be restricted to 25 persons
Baptisms are restricted to 10 persons (including baby)
Good Friday services will be held in the Car Park – no cars will be permitted. Please come expecting to stand. Stewards will guide parishioners to a safe place.
Mass will continue to be Live streamed from St Brigid's Church to our YouTube Channel Link: stbrigidsparishbelfast.org/links